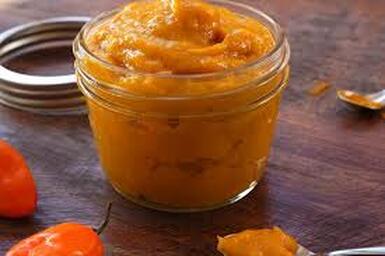 Mango Amba Sauce~ Servings 8
Amba is a popular Middle Eastern pickled mango condiment that's particularly common in Iraq, Saudi Arabia, and Israel. It's similar to Indian mango chutney. Traditional amba sauce recipes usually call for unripened green mangoes that you should then ripen in the sun for several days. This recipe is a more practical shortcut using ripe fresh, canned or frozen unsweetened mangoes.
Ingredients
2 tablespoons canola oil
1 tablespoon mustard seeds
1 chili pepper or hot pepper of choice, seeded and diced
5 mangoes, ripe, canned or frozen
1 tablespoon lemon juice
1/4 cup packed brown sugar
1 cup water, or as needed
2 teaspoons ground cumin
1 teaspoon fenugreek
1/2 teaspoon ground sumac
1/2 teaspoon cayenne pepper, or to taste based on your level of heat tolerance
2 teaspoons salt, or to taste
Preparation
Heat the canola oil in a large pan over medium-low heat. Add the mustard seeds and, when they sputter, turn the heat to low and add the diced hot pepper. Cook for another minute.
Peel, pit, and dice the mangoes, if needed. Add to the pan along with the lemon juice.
Add the brown sugar and water in 1/4 cup increments. Stir until the sugar has dissolved.
Continue cook and stirring until all the mango chunks are tender. Continue adding water as needed.
Stir in the ground cumin, fenugreek, ground sumac, cayenne pepper, and salt.
Taste for seasoning and adjust the salt to your taste.
Remove from heat and allow to cool. Pour into a lidded jar or container and refrigerate.
Allow to sit in the refrigerator at least overnight to develop the flavours and then use as a condiment as desired.
Original recipe:
https://www.thespruceeats.com/amba-sauce-4156713​