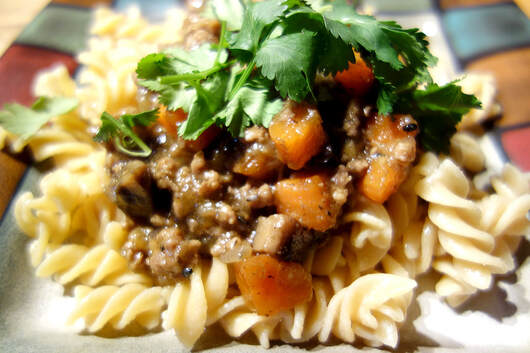 Asian Style Meat Sauce
My brother first introduced me to this dish in the '90's, Since then it has become a household favourite. My version has evolved over the years to include the sauces you'll see below. Purchased at a grocery store or at an Asian market. In London ON,
United Supermarket
is my go-to for Asian products.
Once you've have had your fill of the meat sauce over pasta or rice, there are alternatives.
The sauce can be used as the base for a shepherd's pie, chili, or served in a wrap.
A versatile mixture.
Ingredients
3 Tablespoons vegetable oil
1 1/2 Tablespoons sesame oil
6 to 8 cooking onions, halved & sliced
2 cloves garlic, minced or thinly sliced
3 carrots, coined
15-20 button mushrooms, sliced or halved
1 1/2 to 2 lbs / 1 kg ground pork, or ground meat of choice
2 cups chicken or beef stock
3 Tablespoons sauce for chicken
2 Tablespoons oyster sauce
1 Tablespoons tamari or soy sauce
2 Tablespoons ponzu chili sauce, optional
2 Tablespoons parsley/coriander chutney, optional
fresh cilantro for garnish
Preparation
Heat the vegetable oil in a large sauce pan. Add the onions, garlic, mushrooms to the pan and sauté until tender. Begin adding the ground pork in small chunks, stirring ingredients often. Continue cooking on medium heat until the meat is no longer pink. Drain grease, if necessary. Add the stock to the ingredients along with the sesame oil and the sauces of choice. Allow the mixture to simmer for at least 1 hour. The stock will be absorbed during the simmering process. Adjust for taste.
Add the carrots about an hour before serving.
​If you'd like this dish spicier, add dried or fresh chili peppers. Serve over your choice of pasta or rice. Garnish with cilantro. Enjoy!